The district no longer utilizes direct printing for common access printers and copiers. We utilize a managed service called PaperCut. Through that service we distribute software called Print Deploy that will automatically install the current printers and copiers available to the staff in your building. The steps below will help you get this software up and running.
1. Save any documents that you may be working on. This process requires a system reboot and will do so automatically after the package installs.
2. Open Self Service via one of the following methods:
Through the Wilmette "W" icon on your dock.
Through Applications > Self Service.
Through Spotlight Search.
3. Navigate to the Printers category in Self Service.
4. Locate the Print Deploy Client package and click Install.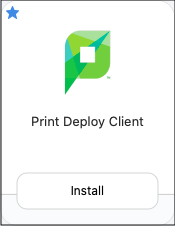 5. After your system reboots, login to your account. After a minute or so you will see the Print Deploy window appear.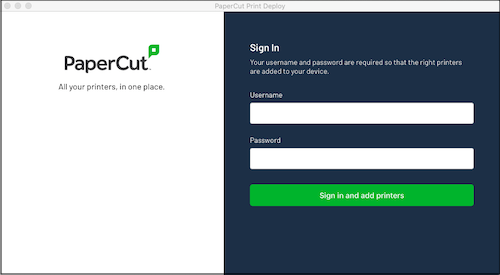 6. Enter your district username and password. Then click "Sign in and add printers".
Your district username is your email account without the domain.
EXAMPLE: "smithj@wilmette39.org" would be "smithj".
Your password is your district email password.
7. Clicking on the Print Deploy

icon in your Menu Bar will give you the option to view your installed printers. This will also show you the status of the printers that are now installing.
Please be aware that Print Deploy will take 10-15 minutes to install new printers the first time. Each time you move to a different building, you will see that your printers will update to reflect the building that you're currently in. If you're in the MEC, you'll see MEC printers. If you go to Romona, you'll see Romona printers, etc. Installing printers after the first time should take 3-5 minutes once Print Deploy checks in. This is normal and how the system is designed to work. If you have any questions or concerns, please submit a ticket to support@wilmette39.org.